07 Sep

September Giveaway 2017
Your chance to WIN!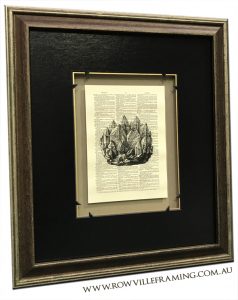 HOW TO WIN:
Head over to our Facebook Page and:
1. Like our page!
2. Like the September Giveaway image.
3. Tag a friend in the photo's comments section.

THE PRIZE:
Following on from last months 'crystal' theme, this little piece was donated by one of our lovely clients! We have drawn inspiration from some of her previous framing with us, using a specialty cut blackcore shiny Onyx matboard with a light gold trim. The little printed crystal has been floated to create a shadow effect.
Frame size: 350mm x 400mm
ENTRIES CLOSE:
5pm on Saturday 30th September 2017
Terms and Conditions of the competition can be found in the comments on the June Giveaway 2017 Facebook post.